Hibiskus bekommt Grüße aus den USA ...

Laureen Van Norman schickt dem Vater ihres Cracks Montagny von der Heide herzliche Grüße! Der 2004 bei Manfred Rüter in Deutschland geborene Montagny, genannt "Monty", hat soeben den tollen Platz 6 in der Gesamtwertung für die USDF-Rankings in der Kategorie Adult Amateur/First Level erringen können.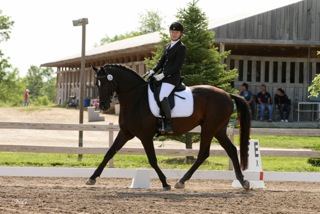 Der Rappwallach wurde 2009 in Dressurpferdeprüfungen der Klasse A von Dr. Jasmine Skaide vorgestellt. Er stammt v. EH Hibiskus a.d. Hamada von der Heide v. EH Münchhausen / Preußenprinz. Hamada v.d.Heide ist eine Halbschwester des gekörten Hessencharme v. Hibiskus. Aus demselben, bei Manfred Rüter gepflegten Stutenstamm ging u.a. die 10. des Deutschen Stutenchampionats, Herzdame v.d.Heide, hervor, deren beide mütterlichen Halbbrüder von Sir Donnerhall und Sandro Hit in einem Jahr in Vechta gekört wurden. Die Mutter dieser drei Pferde, Halbton v.d.Heide, brachte zudem das M**-Dressurpferd Lima's Sinfonie v.d.Heide und Harmonie v.d.Heide, die beim Bundeschampionat des 5-jährigen Dressurpferdes 2013 dabei war. Der in die USA gegangene gekörte Hofherr v. Heops zählt ebenfalls zur engeren Verwandtschaft.

Laureen Van Norman hat Monty 2011 in ihren Stall bekommen. Sie beschreibt ihren Schatz als super zu handeln und sehr ehrgeizig und aufmerksam bei Turnieren – und er ist ein echter Hingucker. Wo immer er auftaucht, drehen sich die Leute nach ihm um. Gerade erst im Juni hatten die beiden einen tollen Auftritt. Monty war DER Schleifensammler, bekam 74,8% in einer First-Level-Prüfung. Bei drei von vier Starts war er Sieger ...


---

Laureen van Norman was kind enough to send us information regarding the success series she has been having with her Hibiskus son Montagny von der Heide in 2014 in U.S.A.

Montagny was born and bred in Germany. His breeder is Manfred Rueter.

"Monty" has ended the year ranked 6th in Adult Amateur 1st level dressage for USDF. He is going to be named Horse of the Year for the Nebraska Dressage Association with a median of 73%. He is the number one Trakehner at this level in America.

The black gelding was shown in Germany 2009 in Dressurpferde  A  (Novice for young horses) under Dr. Jasmine Skaide. His sire is E. H. Hibiskus and his dam is Hamada v.d.Heide by E.H. Muenchausen/Preußenprinz. Hamada is a half sister to the registered stallion Hessencharme by E.H. Hibiskus.

More members of the dam line, which is carefully preserved by Manfred Rueter, would be among others the 10th of the German Mare Championships, Herzdame v.d. Heide. She had two maternal half brothers that were approved within one year for Oldenburg in Vechta as breeding stallions (by Sir Donnerhall and by Sandro Hit). The dam of these three horses, Halbton v. d. Heide, also foaled the succesfull intermediate level dressage horse Lima´s Sinfonie v.d. Heide and Harmonie v.d. Heide, who competed 2013 in the German Young Dressage Horse Championships in Warendorf. The approved stallion Hofherr by Heops, who in the meantime is in U.S.A., is also closely related.

Laureen van Norman got "Monty" in her stable 2011. She describes him as a very easy to handle horse who is very ambitious and eager to give his best at shows. He is a real head turner, wherever he shows up people always turn around to have a closer look.

Just this June both of them had fantastic success. Monty was THE ribbon winner with 74.8% in a first level class. Three of his four starts he won …

Thank you very much for this news Laureen, and do keep us posted. We are always thrilled to hear.